Well, I haven't missed a day, but life has been getting in the way of me posting. So here is the last week worth of entries: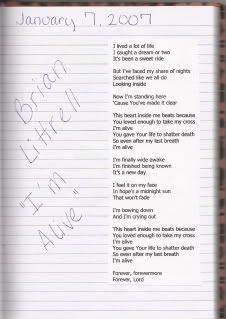 One of my favorite songs as of late. It was the perfect way to end the first week, even though I was up at 3am on the 7th doing it!



This is the page from Worship service. We actually sang MercyMe's "Word of God Speak" in service! It was great! Except the music minister's voice kept waivering in the song, not in the "moved" way either. Like he couldn't hit the notes in it! =)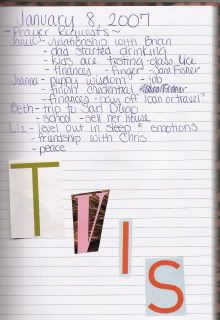 This was the first day at our new school. That's what the TVIS stands for. We are Tiefort View Intermediate School. There's also prayer requests from that night's Bible Study. I was so exhausted that day, that's all I could do. I know I should have written more about my first day at school, but oh well, I'll remember.



I took 2 days and actually wrote about what was happening at school. This was Friday, when I finally found the peace in all the madness that was setting up the new school.



This was Saturday. It was really awkward at Bible Study on Monday when all the girls were talking about their dates and stuff, and here I am being completely single and happy for it. Not to mention my mom is sending me MySpace links of guys!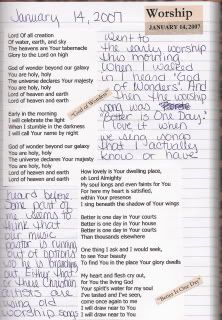 This is Worship yesterday. We sang "God of Wonders" along with "Better is the Day" both of which I have heard on KLOVE. I think it's so cool when I hear songs I know at church. Then I can actually sing along. Not that I can right now. I've about lost my voice! =)


[cross-posted]