Hi everyone! I'm new. My name is Becca. I'm 26. I'll save the story of my finding Jesus for a later time because it's kind of long and will probably end up in my journal before too long. Anyway, I have been a Christian all my life, but only began my spiritual journey seven years ago. My favorite verse: Philippians 4:13. More on that later.

I'm currently doing
embodiment and have been posting my entries there. Well, some of the more recent ones have been dealing with my Bible Study. I don't know why, but lately, when I sit down to study, I have the overwhelming urge to grab my journal and write while I read.

So here are today's and yesterday's posts. I really had no idea what to write about yesterday, until I sat down for study. Yet again, another song!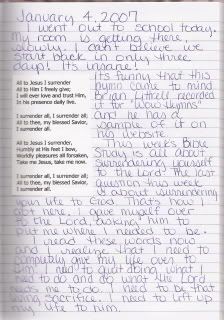 This is yesterday's entry. As I was reading last night's verses, "I Surrender All" went through my brain. So I looked it up and put it in my journal.



This is today's entry. I found a song that my favorite artists collaborated on! Mac Powell (of Third Day), Steven Curtis Chapman, Mark Hall (of Casting Crowns) and Brian Littrell all on one song! *sigh* The song is called "By His Wounds." It's new. I found it on a Brian website and downloaded it! It's on repeat right now. (Not my doing.) It's basically Isaiah 53:5 put to music. But you have to use New International Version of the Bible to get it right. King James just doesn't give it the right feel.

"He was piereced for our transgressions
He was crushed for our sins
The punishment that brought us peace was upon Him
And by His wounds we are healed"
Isaiah 53:5, NIV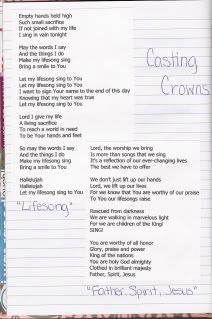 This is from January 3, 2007. As I was sitting down to study that night, I had two Casting Crowns songs running through my head, "Lifesong" and "Father, Spirit, Jesus." I wound up quoting Luke 9:23 and Romans 12:1 in my subsequent entry.



This is actually from one of my favorite Christian songs as of late. It's from "Angels and Hereos" by Brian Littrell. I know I'll end up quoting other lyrics of his as well.

So that's about it, for now.